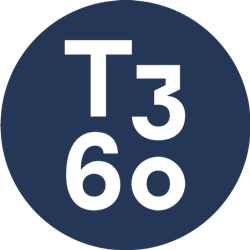 "The Real Estate Almanac is to the residential real estate industry what Kelly's Blue Book is to the auto industry," said Stefan Swanepoel, Chairman and CEO of T3 Sixty.
LADERA RANCH, California (PRWEB)
Jul 6, 2021
T3 sixty, a real estate management consulting and analysis firm, has released the print edition of the 2021 Real Estate Almanac, which brings together all the research, analysis and rankings of real estate leaders, MLS, real estate associations, technology providers, franchise brands, businesses and brokerage firms. , into one comprehensive collection. Thousands of free copies of the physical report are sent to the executives and companies included in the study.
The collection of over 400 pages brings together five sections previously published on the Internet during the first five months of the year at: realestatealmanac.com: The most influential leaders in real estate in the SP 200, the list of the largest MLS and real estate associations in the ORE 200, the organization of the leading technology companies in the Tech 500 ranking, the largest public companies and franchise brands in the enterprise. report and 1000 largest brokerage companies in the country in the Mega 1000 rating.
In addition to ratings and data, the report includes extensive analysis of each section, including infographics and charts, to give readers additional insight into the different ways in which numbers are interpreted and used.
For example, some of the ideas in the report include:

Consolidation among local associations of realtors and MLS continues, with year-on-year headlines declining 1.7 percent and 1.6 percent, respectively, from 2019 to 2020.
An ongoing explosion of tech products with 37 new tech products added this year.
The market share of the top 20 real estate companies in the country increased 4.0 percent in 2020 over the previous year, and now account for 54.9 percent of total existing home sales in 2020.
The top 10 US brokerages in 2020 accounted for nearly a fifth of the market share in terms of sales in the country, led by Realogy Brokerage Group, HomeServices of America and Compass, each of which recorded more than $ 100 billion in annual sales.
"The Real Estate Almanac is to the residential real estate industry what Kelly's Blue Book is to the auto industry," said Stefan Swanepoel, Chairman and CEO of T3 Sixty. "This is your one-stop, unbiased guide to everything related to our beloved industry."
About the almanac of real estate

The Real Estate Almanac is a comprehensive annual in-depth analysis of the residential real estate industry. The almanac of over 400 pages includes a list of the most influential leaders in real estate (SP 200), a list of the largest MLS and real estate associations (ORE 200), a list of the largest technology companies (Tech 500), a list of the largest national holding companies, franchise brands and public companies ( Enterprise 20), as well as a list of 1000 largest brokerage companies in the country (Mega 1000). For more information visit realestatealmanac.com…
About T3 Sixty

T3 Sixty is a trusted advisor and management consultant for residential brokerage. T3 Sixty also provides extensive data processing and research services to influence intelligent change and growth. For more information visit t360.com…
Share the article on social networks or by email: