[ad_1]

New data shows that the number of mortgages approved in May rose 7.4% from the previous month and nearly 150% from the same period last year.
The Banking and Payments Federation of Ireland said 4,683 mortgages were approved last month.
Initial Buyers (FTB) were approved by more than half of the total at 55%, while novice buyers accounted for almost 24%.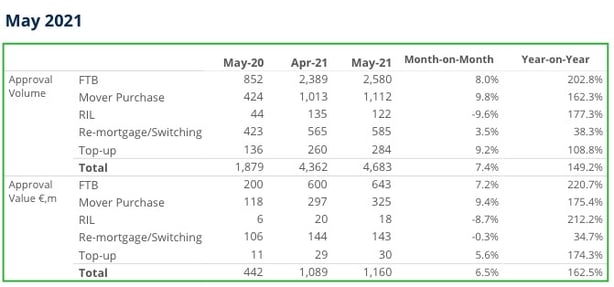 Today's data also shows that mortgages approved in May were valued at € 1.16 billion.
FTB accounted for 643 million euros and buyers 325 million euros.
BPFI reported that the volume of approved mortgages increased by 6.5% on a monthly basis and by 162.5% on an annualized basis.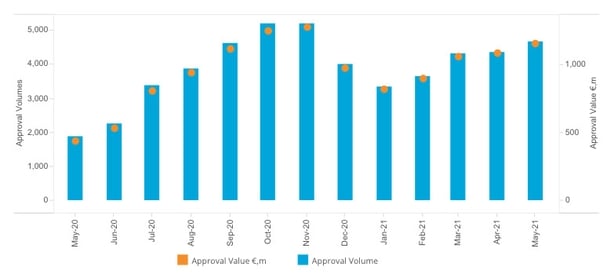 Brian Hayes, chief executive of BPFI, said May was another "very strong" month for mortgage approvals.
"Even though a number of Covid restrictions were lifted in May, lenders and customers have also adapted much better to working within the restrictions, and this is clearly supported by the numbers," he said.
Annual data shows that 48,935 mortgages were approved in the twelve months ended May 2021.
"By looking at the data on an annualized basis, we can more accurately assess emerging key trends," said Mr. Hayes.
"During this period, more FTB loans and procuring vehicles were approved together than in any twelve-month period since the start of data collection in 2011 – 38,882," he said.
In value terms, homebuyer and construction permits approached € 10 billion for the first time.
"These are significant numbers, and they are very signaling that a reliable pipeline is in place to cut production at the end of the year," said Mr. Hayes.


[ad_2]

Source link