[ad_1]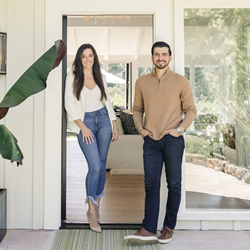 We want to keep raising the bar and raising the industry.
SAN FRANCISCO (PRWEB)
August 16, 2021
The Millennium Group announced the creation Evoke Real Estate and partnership with Side, the only real estate technology company that exclusively partners with high performing agents, teams and independent brokerage firms to transform them into market leading boutique brands and businesses. The partnership ensures that Evoke Real Estate, a firm that combines industry expertise with cutting edge marketing strategies, operates on the most advanced platform in the industry.
Evoke Real Estate was inspired by the revolutionary vision of Bay Area founders and natives Courtney Ott and James Need. Ott and Nied are recognized leaders in the local real estate market, with their place in a network of top agents. Representing homes in San Francisco, Marin County, Sonoma and Napa, Ott & Nid draws on their market knowledge and proven, forward-looking methods to provide their clients with a complete range of services.
The partnership with Side ensures that Evoke Real Estate remains at the forefront of the emerging real estate market while continuing to deliver premium services to its clients. Side works behind the scenes supporting Evoke Real Estate with a unique brokerage platform that includes proprietary technology, transaction management, branding and marketing services, public relations, legal support, lead generation, supplier management, infrastructure solutions and more. In addition, Evoke Real Estate will join an exclusive group of third-party partners, connecting to an extensive coast-to-coast network.
"We have long been committed to offering our clients cutting edge strategies and exceptional care," Ott said. "We want to keep raising the bar and raising the industry." Nead added, "We are confident that by partnering with Side, we can leverage their technology to deliver a seamless real estate experience and improve the customer service we provide."
Side is led by experienced industry professionals and world-class engineers who develop technologies designed to improve agent productivity and customer service. Building on its conviction that home ownership is a fundamental human right, Side strives to improve the public good by providing high performing real estate agents, teams and indie brokers with the best system, support, service, expertise and results.
About Evoke Real Estate
Evoke Real Estate reimagines the Bay Area real estate experience, setting new standards of excellence through an innovative, streamlined approach and comprehensive service. From Marin County to San Francisco and Sonoma to Napa, the Evoke Real Estate team creates an impeccable real estate experience built on transparency, creativity and attention. For more information visit http://www.evokere.com…
About Side
Side transforms high performing agents, teams and independent brokerage firms into successful 100% agent-owned businesses and boutique brands. Side exclusively works with the best agents, providing them with proprietary technology and a top-notch support team so they can be more productive, grow their business and focus on serving their customers. Side is headquartered in San Francisco. For more information visit http://www.sideinc.com…
Share the article on social networks or by email:
[ad_2]

Source link