New data from the central bank show that Irish mortgage rates fell slightly in May and are now the third highest in the eurozone after Malta and Greece.
The average interest rate on new Irish mortgage agreements fell to 2.8% in May, 7 basis points lower than in May 2020.
The average for the euro area in May was 1.27%, although this figure varies significantly across countries.
Today's data shows that the average interest rate on new fixed-rate mortgage agreements in May was 2.64%, 10 basis points lower than in May 2020.
According to the Central Bank, 79% of new contracts accounted for mortgages with a fixed interest rate over the month.
Under the new floating rate mortgage agreements, the average interest rate in May was 3.39%. This is 2 basis points more than last year.
The central bank said the volume of new mortgage contracts totaled € 573 million in May, up 52% ​​from May 2020, when volumes dropped significantly after the start of Covid-19.
It also grew 4% over April this year.
---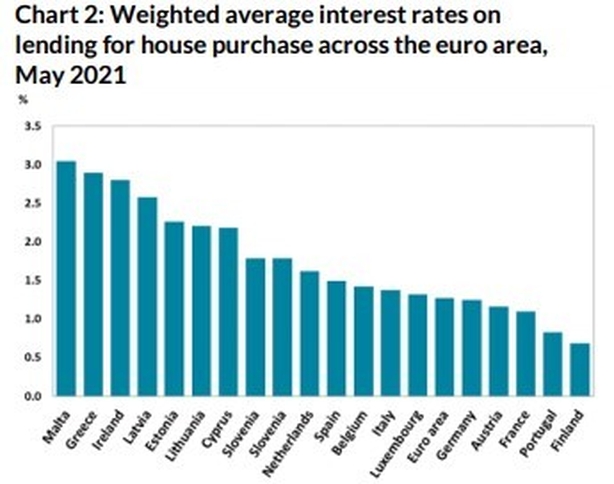 ---
The central bank said revised mortgages totaled € 189 million in May, down 66% from the previous month's high.
The weighted average interest rate on all revised mortgages was 2.74% in May, the agency added.
Meanwhile, the Central Bank said that interest rates on new fixed-term deposits of the population in May amounted to 0.12%, compared with the equivalent rate in the euro area of ​​0.23%.