[ad_1]

Last week, Nathan Kaufman as well as Ty Kratemanfrom the Federal Reserve Bank of Kansas City published an update titled "Farm debt continues to decline and credit stress declines, "Which noted that"Agricultural debt in commercial banks continued to decline in the first quarter of 2021 and improved lending indicators for farms… "
The Kansas City Federal Reserve noted that
In the summer months, the prospects for agriculture remained good. Strong demand for basic agricultural commodities continued to support high prices and optimism across the sector.
"Increased production costs as well as persistent drought however, fears persisted in many regions; and profitability for cattle producers remained narrow. Overall, strength in the aggregate environment and sustained support for government aid and lending programs have continued to limit the growth of farm debt and reduce the stress associated with agricultural lending.… "
More narrowly, Kaufmann and Kreitman noted that "farm debt to commercial banks continued to decline in the first quarter. Indebtedness of non-real estate farms decreased by 10% a year ago, as high profits in large segments of the agricultural sector limited the needs of producers for operating loans. Similarly, agricultural real estate debt decreased by 3% compared to last year, despite continued growth in the value of farm real estate. "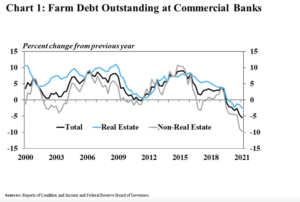 Last week's update noted that "Among lenders that are still concentrated in agriculture, the reduction in farm debt in recent quarters has been less pronounced… For banks that retained their classification as agricultural banks during the first quarter of 2021, farm debt was about 3% less than a year ago. On the contrary, the debt of farms decreased by almost 7% in other banks not classified as agricultural in the first quarter (Chart 3, left). Moreover, farm debt increased slightly in banks that retained their agricultural classification, while real estate loans in other banks decreased by 5% (chart 3, middle). Non-real estate loan balances fell by about 10% in all commercial banks, regardless of their classification as agricultural or non-agricultural (Chart 3, right) ".
The Kansas City Federal Reserve added: "Along with the decline in farm debt in general, the volume of overdue loans significantly decreased in the first quarter… The volume of overdue agricultural loans amounted to about 25% less than a year ago in commercial banks, and the rate of delinquency also decreased.
"NPLs declined more significantly in banks that are most concentrated in agriculture, and NPL rates among these lenders also remained slightly lower than those of other banks."
[ad_2]

Source link